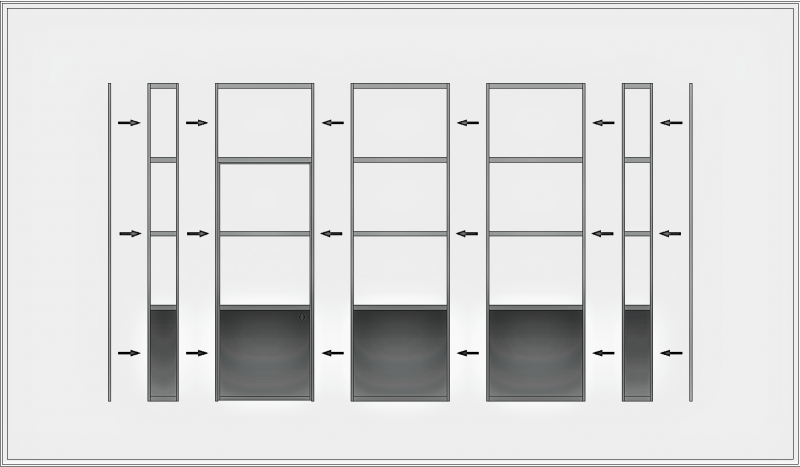 To suit your requirements
Using our flexible modular system, we can supply almost any configuration to suit your space.
Your project can quickly and easily be designed using our intuitive app, giving you both a scale
accurate sketch but also a genuine quotation in real time.  Any designs can be saved to 'My Screens'
and we've even added a convenient way for you to email the details.
Standard
1980 or 2580 fixed height panels
Our standard panels come in two heights  – 1980mm or 2580mm.  As they are our stock heights they are more cost effective for us to make and as they are standard, we are able to hold more stock of the relevant parts. This usually means that these orders are the quickest to turnaround.
Where site is flexible on finished sizes, Niches or Knibbs can be created by builders to suit the panels which can be the most economical option.
Our premium VARI option allows you to tailor the height of your system to fit any openings from 1985mm to 3005mm.
( The increments go up in bands of 5mm )
Our app allows you to toggle easily between the VARI and Standard height options so its easy to compare the price differences.
Standard
800mm fixed width panels
Our standard fixed width panels are 800mm wide.  As they are our stock width they are more cost effective for us to make and as they are standard, we are able to hold more stock of the relevant parts. This usually means that these orders are the quickest to turnaround.
These are standard 800mm wide panels are usefull for infill between walls and a door for example, but they can be used in many different ways. Commonly these are used in conjunction with the tailored width panels to cost effectively achieve the required structural opening width.
Builders also may also create Niches or Knibbs to fit the panels into where many panels are combined to create glass and steel partition walls.
Our premium Tailored width panels option allows you to tailor the Width of your system.  As they are created specifically to suit your site dimensions they are more time consuming to produce, hence they are slightly more costly than the fixed widths panels.
Try reducing the number of these used in the design app if trying to keep costs as low as possible, opting instead (for example) for more fixed 800mm width panels instead of all tailored width panels.
These panels are essential when fitting into an existing Structural Opening, where the width of the aperture is already existing.
Can be used in conjunction with fixed width panels or doors or by themselves.
The width range of these as a panel is 100mm-1300mm providing great flexibility in their own right.
Materials and Finishing
All of our screens, doors and partitions are made of Blackened Steel,
or more specifically Hot Rolled Steel with a Satin Lacquered finish.
Just as a roof slate darkens when wet, so does our steel. Only, we
do it with a lacquer so it stays that way.
We handpick materials that have the right qualities for our system
because we preserve the natural patina created in the Rolling Mills.
Our Lacquers are specifically designed for direct use and this is applied
in our state of the art spray booth ovens.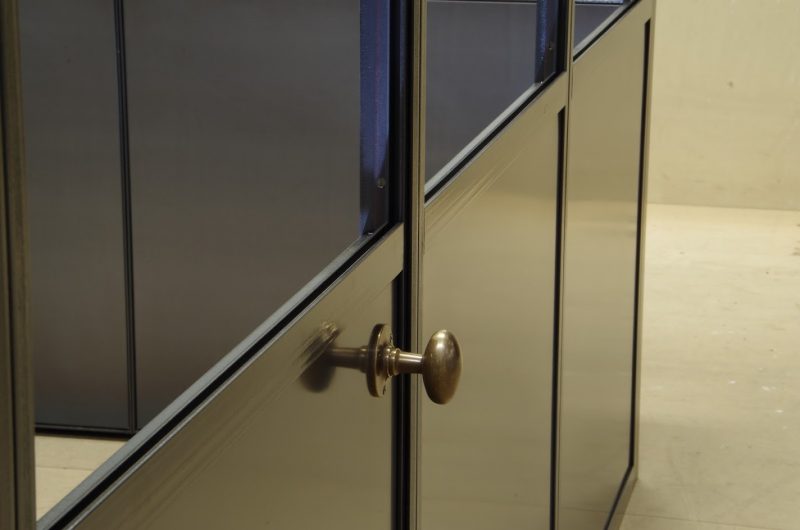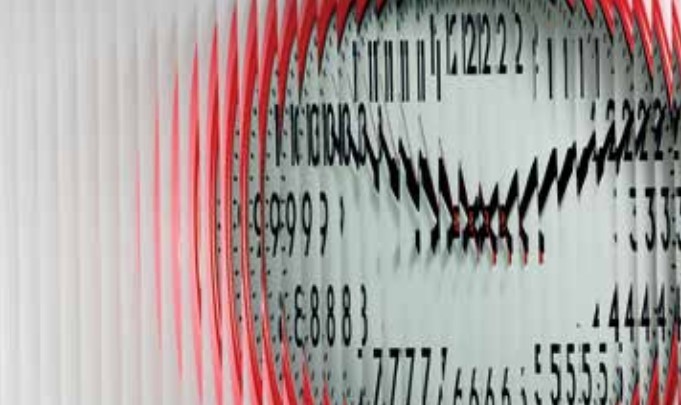 Glass Supply Options
With so many glass variants available, we keep our options simple.
We offer the following supply options, which are usually sent separately.
The last option is offered for any customers that would like to choose something different.
4MM Plain Toughened Glass
4mm Pilkington Reeded & Toughened Glass
Customer Supplied ( No glass supplied )
We love the look of the oval brass handles. So much that we fit them as our luxury standard.
However, if you would like something else we've got two ways of going about it.
Either select no handles in the app and have them fitted by a locksmith on site, or if you
are able to send us the handles you desire, we will fit them for you for a small fee*.
*please note that handles need to be with us 5 working days before your
despatch date and they must be compatible with our door system.